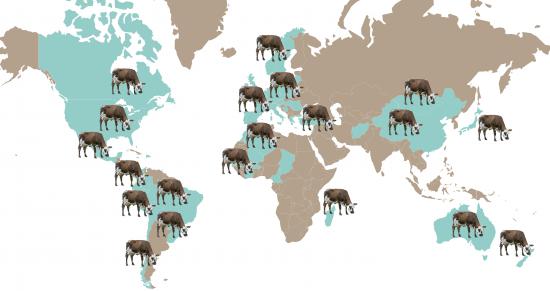 The Normande breed worldwide
The Normande is present on all continents for good reasons. Imported in South America in the 19th century, it is now spreading in European countries, North America, Africa, Asia and Oceania. The main raison for choosing the Normande in all these countries is its outstanding hardiness
combined with high added value.
Its thick curly winter hair insures a good protection against the cold while eye rings are effective against the sun in the summer. The Normande cow has proven its adaptability to a vast range of climates.
In Ireland, the Normande breed is known for its grazing qualities, and Irish dairymen appreciate its remarkable fertility.
In Italy, milk from Normande cows increases the cheese yield for the fabrication of Parmiggiano. It is 15% higher than other dairy breeds.
In Mexico, the breed resists well to periods of severe drought and high sunlight.
The Normande is present in Colombia since 1877. The colombian population is now considered to be around 1.2 million heads of purebred and Normande x Zebu crossbred.